Meet Sgt. Slaughter at Retro Con!
We have secured the one and only Sgt. Slaughter for our 2014 show!
A wrestler for over 40 years, the Sarge became a household name when he joined the WWF in the early 1980s with his famous "Cobra Clutch" move. He moved to the AWA in the  mid-80s where he quickly won the championship belt and successfully defended it until it was retired.
He rejoined the WWF in 1990 and briefly won the championship belt in 1991 by pinning the Ultimate Warrior in the ring (after an assist by Randy "Macho Man" Savage).

In 1985,  Hasbro decided to incorporate Sgt. Slaughter into their GI Joe: A Real American Hero toy line, comic, and animated series. Voicing himself, his cartoon debut was in the Season 2 Arise Serpentor Arise mini series, where he arrived in the nick of time to save the Joes from a squad of Battle Android Troopers (BATs). We learn that he's one of the GI Joe team's greatest warriors and trainers.
In the 1987 GI Joe movie it's revealed Sarge is the leader and trainer of an elite group called The Renegades: Red Dog, Mercer, and Taurus (with Lt Falcon as the newest trainee). They were major players in the final battle against Cobra-La, where Sarge channeled some of his wrestling background to defeat Nemesis Enforcer.
Sarge has been immortalized in plastic probably more than any other real life personality. He has at least seven GI Joe figures based on him, and just as many based on his wrestling career. He even had a bubble bath container made in his likeness (shown above)!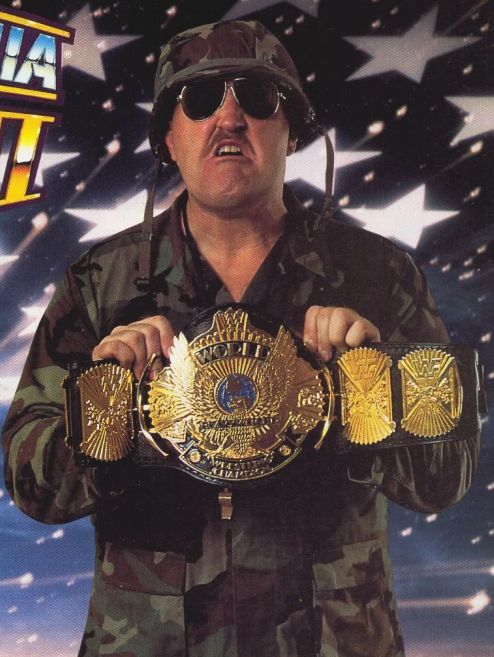 Sgt. Slaughter will be available all weekend for autographs and pictures. He his currently charging $20 for an autograph or picture op (on your own equipment), with a discount for buying both together! Come out and meet a living legend!!