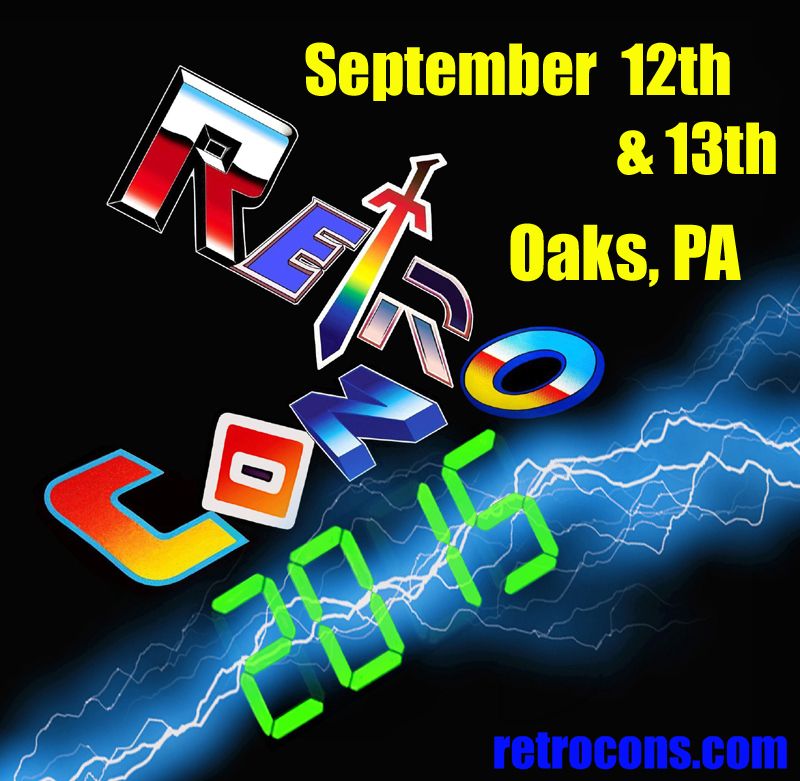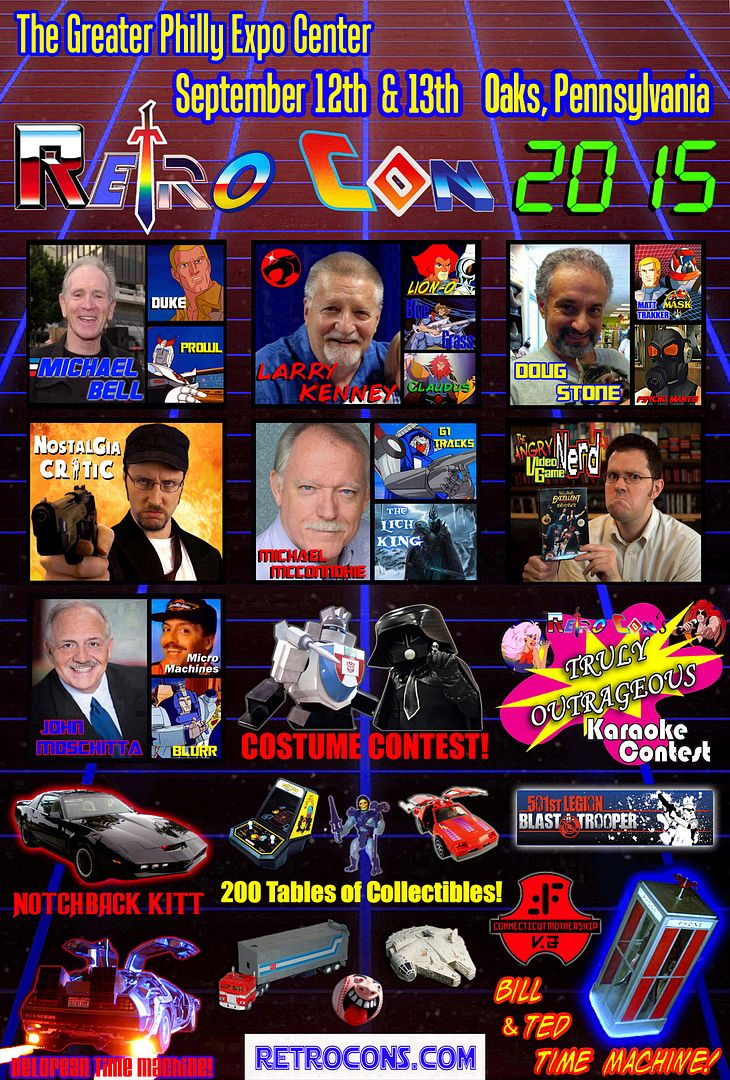 CONTACT US Email: screamers@retroscreamers.com
Find Us On Facebook: www.facebook.com/RetroCons
Our Official 2015 Facebook Event Page: https://www.facebook.com/events/383623975122037/
We welcome our good friend Eric Moran to our 2015 guest list!
Eric "The Smoke" Moran is Philadelphia native. The former United States Marine was also a professional wrestler for companies like Gorgeous Ladies of Outrageous Wrestling, Extreme Championship Wrestling, Cyberspace Wrestling, and Women's Extreme Wrestling.
Eric has appeared on television shows including The Jenny Jones Show and Heavy Sedation. He is also one the founders of Together Brothers Productions, an independent film production company based on the east coast. He's worked as film writer, director, producer, and actor with over ten independent films and web series like, The Deep End, Legacy, and the upcoming Trek Isolation.
In 2014, The Smoke became a household name in the world of cosplay when he hosted the Syfy channel's series, Heroes of Cosplay. His massive physique, cool demeanor, and confident style have led him to be included in projects highlighting in the world of comic books for Big City Comics Studios, DC Comics as Freight Train, and currently appearing in George Perez's, Sirens. The Smoke routinely visits school to inspire and motivate kids, as well as participates in charity events such as The Peace Fund Games.
Eric has been one of our biggest supporters since we started the show, so feel free to stop by his table to say hi! Eric will also be hosting and judging our junior & adult level costume contest on Saturday at the show!
We are delighted to announce the inclusion of puppeteer Jim Martin to Retro Con 2015!
With a career spanning more than 30 years, Jim has performed on such esteemed
series as "Captain Kangaroo", "The Puzzle Place," Disney's "Bear In The Big Blue House," "Johnny And The Sprites", and has spent over 20 years working on "Sesame Street" as both a performer and a director. He has won 5 Emmy Awards to date for his directing work!
"Well… HELLO There!
This Gary Gnu
And The No Gnews IS Good Gnews Show!
The Only TV Program Guaranteed To Contain No Gnews Whatsoever!"
But if you were a kid in the 80's, you most likely remember a little TV program called The Great Space Coaster. The show with the super-catchy theme song and eclectic cast of characters ran for 250 episodes from 1981 to 1986 and is still widely revered to this day. Well, Jim had the distinction of puppeteering and voicing fan-favorite "No Gnewscaster" Gary Gnu on the series!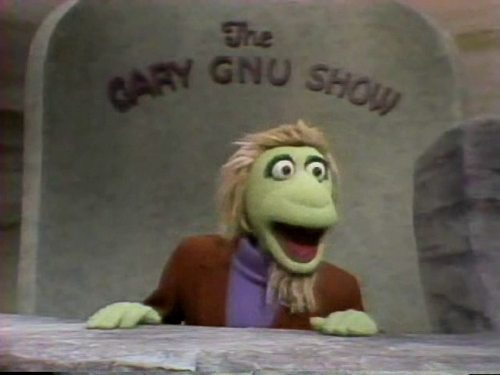 With a tendency to add a hard "G" sound to words such as "g-naturally" and "g-nice", in his segments Gary would introduce film clips of weird sporting events, people in silly situations, bizarre inventions, etc., and would give his own insightful commentary on them. Things would be punctuated by Gary's "film crew" that would often heckle him and toss items into frame.

 Jim also performed other characters on the show, such as the scheming ringmaster "M. T. Promises", along with "Baffle"- the spellcasting alien that can see 12 minutes into the future!

A few years ago, Jim bought the rights to The Great Space Coaster and is working hard to digitize the 2 inch reel-to-reel video tapes that contain the last remaining copies of the original series. Since TGSC is a time capsule of the 80's, including iconic music and celebrity appearances, it is definitely worth preserving!!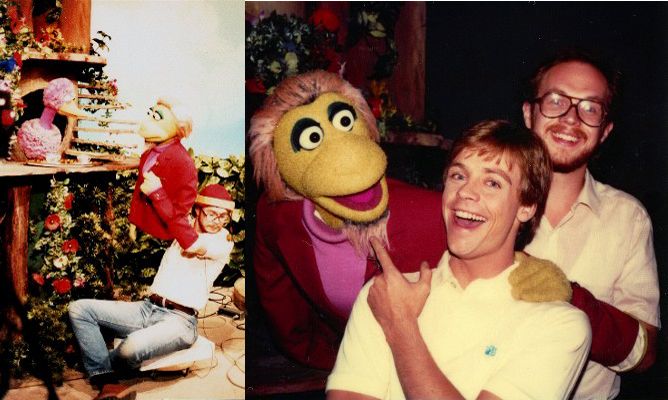 Behind the scenes with Gary Gnu, plus a cameo on TGSC by Mark Hamill circa 1981!
Jim and his wife Crystal will be at the show all weekend and will have a booth to display some of their work from over the years, along with a Gary Gnu puppet made by members of the team that made the original Great Space Coaster puppets! They may also be hosting a panel on Puppetry in Film and Television at the show (time and day to be determined). We thank Jim and Crystal for reaching out to us to be part of the show this year!!

Please help Jim's crusade to preserve and revive The Great Space Coaster by supporting the pages he is affiliated with!
 We'd like to welcome the venerable Michael Bell to Retro Con 2015!
 With nearly 60 years of professional acting experience (over 40 of them as a voice actor), Michael is a true legend in the industry! Though widely known for his voice work, you may also have seen Michael in character parts in such classic TV shows as Get Smart, The Monkees, CHiPs, Three's Company, Charlie's Angels, and Star Trek. Michael also ran his own voice acting workshop, which he used to train well-known voice actors such as Cam Clarke and Corey Burton, and he also currently serves as a member of the Board of Directors for the Screen Actors Guild. He is married to actress Victoria Carroll, and you may also know of their daughter, actress Ashley Bell!

Michael's most notable role for retro fans is probably that of First Sergeant Conrad "Duke" Hauser in the Sunbow GI Joe: A Real American Hero cartoon series! He voiced the confident field leader of the Joe team in the two original miniseries, both seasons of the syndicated tv show, and in the GI Joe animated movie (1987). Though originally written to be killed off in the movie, a severe backlash over the death of Optimus Prime in the Transformers movie spurred producers to spare the character of Duke. So in lieu of dying in a battle with Serpentor, Duke would slip into a coma and later reawaken.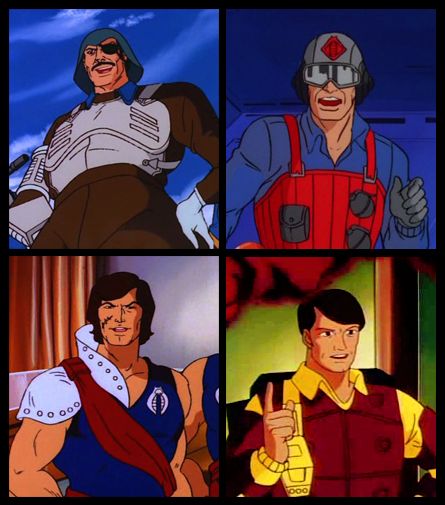 Michael gave voice and personality to several other Joe and Cobra characters on the show too: Major Bludd, Scrap-Iron, Xamot, Blowtorch, and many more!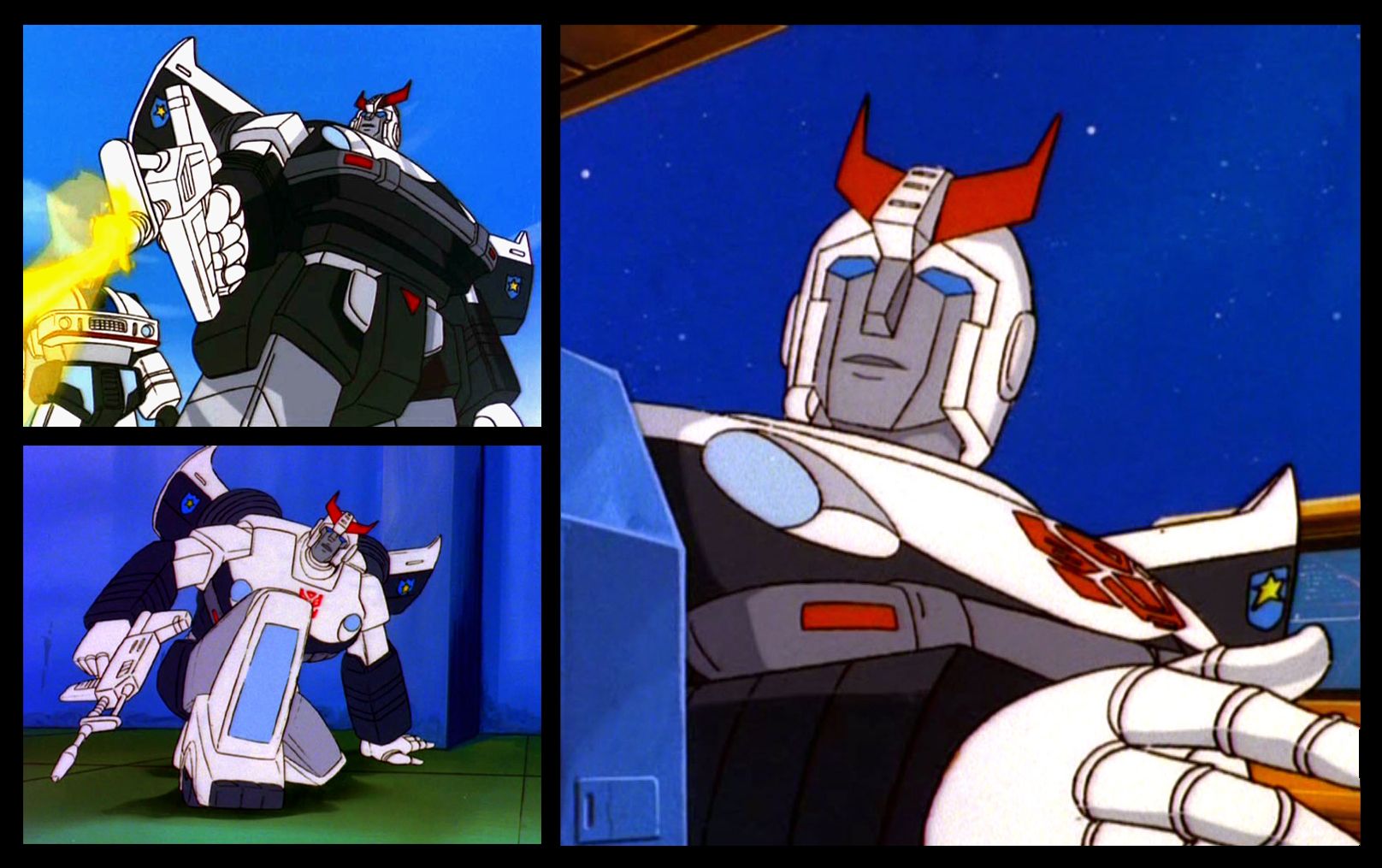 Mr. Bell is also popular for his work on G1 Transformers, with his most prominent role arguably being military strategist Prowl! A highly capable Autobot, Prowl was known for his straight-laced and logical personality. He also stood out with his unique police-themed robot and car design. Unfortunately, Prowl met his demise in the 1986 Transformers movie at the hands of a Decepticon raiding party while co-piloting an Autobot shuttle on its way to Earth. ☠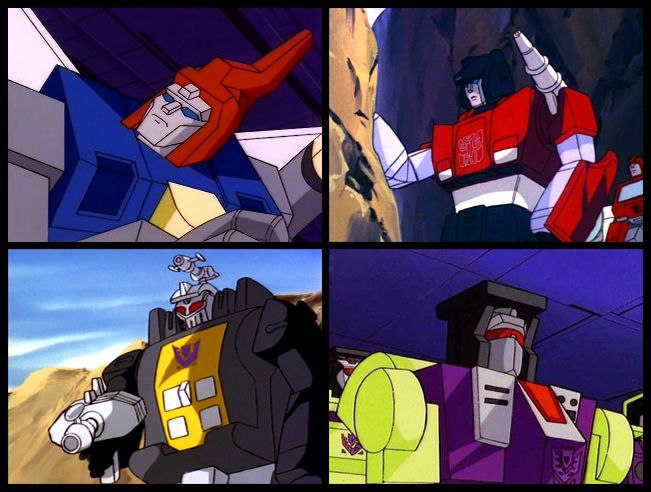 And just like GI Joe, Michael also provided voices for many other characters on Transformers as well! Among them were Dinobot Swoop, warrior Sideswipe, Insecticon Bombshell, and Constructicon leader Scrapper.

Other highlights in Mr. Bell's voice acting career include: Zan of the Wonder Twins (along with space monkey Gleek), Lance and Sven on Voltron, Chas Finster on Rugrats, Handy, Grouchy, and Lazy Smurf, and Plastic Man! 
Michael will be on hand all weekend to sign autographs for retro fanatics, so bring along your cartoon memorabilia! Michael is also a huge animal rights activist, so we will be donating part of the totals of the Retro Con 2015 charity auction to an animal foundation of his choice!

Our friend Nagi has kindly offered to host and sponsor a karaoke contest at Retro Con 2015! To be held on Saturday at the show, sign-ups will begin at 11am at the Raffle table near the front of the hall. There are no sign-up fees or age restrictions.
The contest will run about an hour long, so we can only accept around 12 contestants in total. The contest itself will happen at approximately 2pm in the panel area at the show (exact time to be determined later).

We will have a wide variety of 80's classics to choose from. Most will have on-screen lyrics to follow along with, but we will also be supplementing these with a few geek-related favorites that will have a *lyrics sheet only* (consider these "extra credit" choices).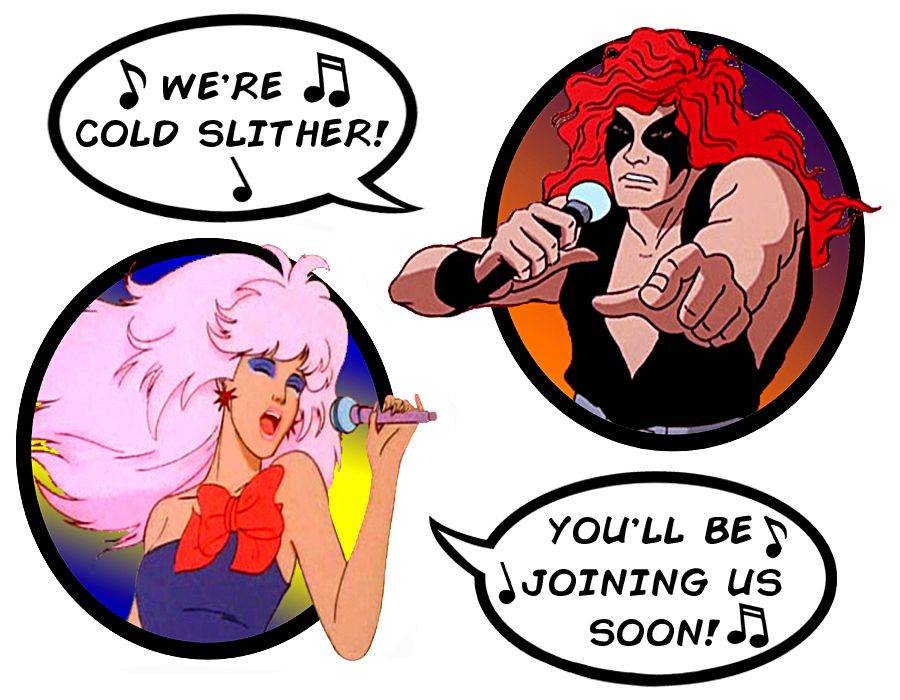 The contest rules are as follows:

#1. No staff or volunteers may enter
#2. Singing in costume is allowed, but will not affect the judges' scoring.
#3. No props or skits are allowed.
#4. Solo artists only, please.
#5. Songs will be picked on a first-come, first-served basis. Songs will not be held for specific contestants. Also, outside music will not be allowed.
#6. No instruments will be allowed.
#7. All contestants must arrive at the panel/event room *15 minutes* prior to showtime for check-in and singing order. If you are not present around this time, you may forfeit your entry.
#8. Please no heckling from the audience or other contestants. Anyone found to be disorderly will be asked to leave the panel area.
#9. You MUST rock.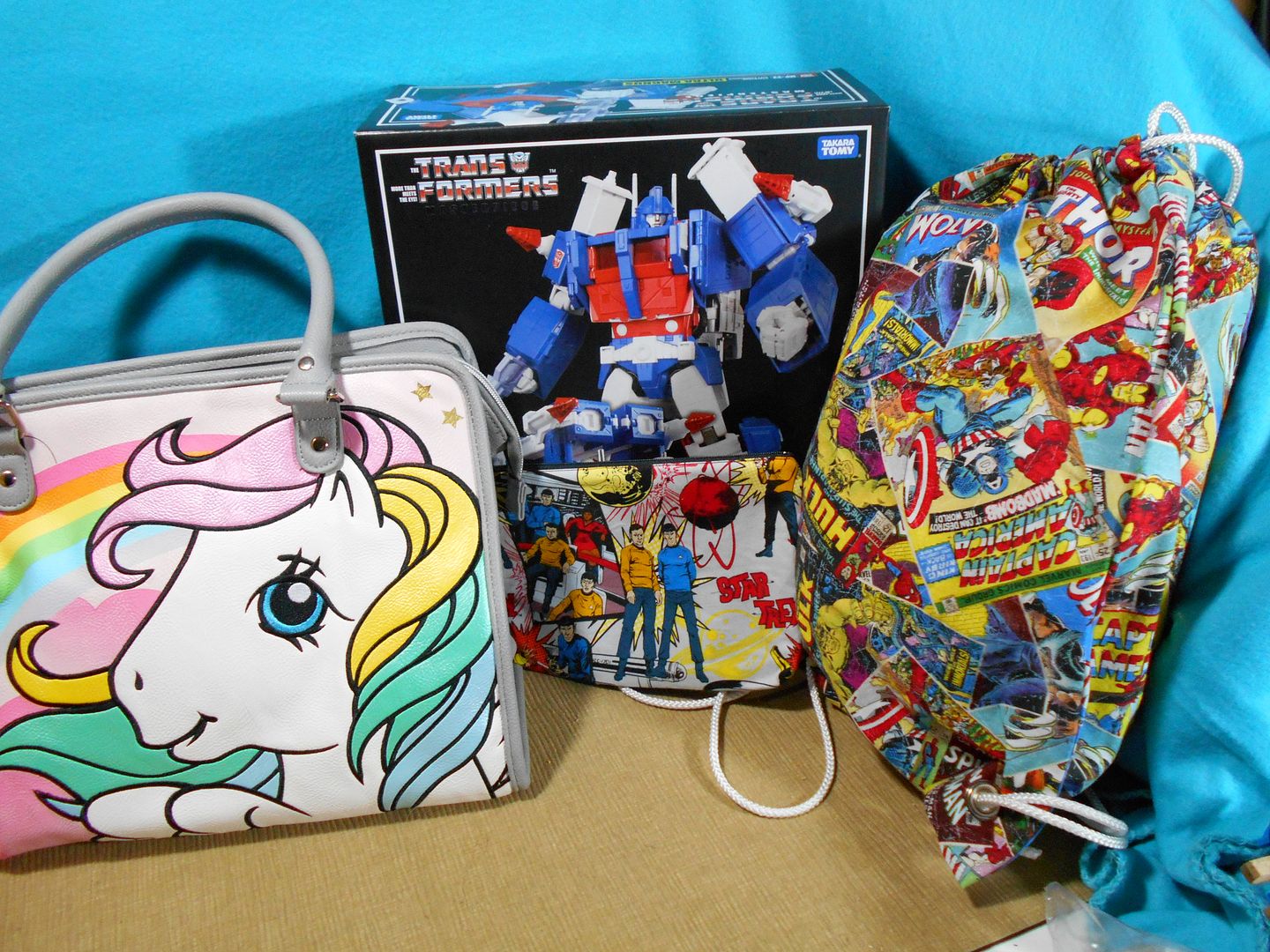 The 1st Place winner of the contest will receive an unopened Transformers Masterpiece Ultra Magnus figure! Available only through import stores at the moment, this fully-transformable toy is valued at nearly $200!!
So consider signing up and channeling your inner 80's rocker or one-hit wonder!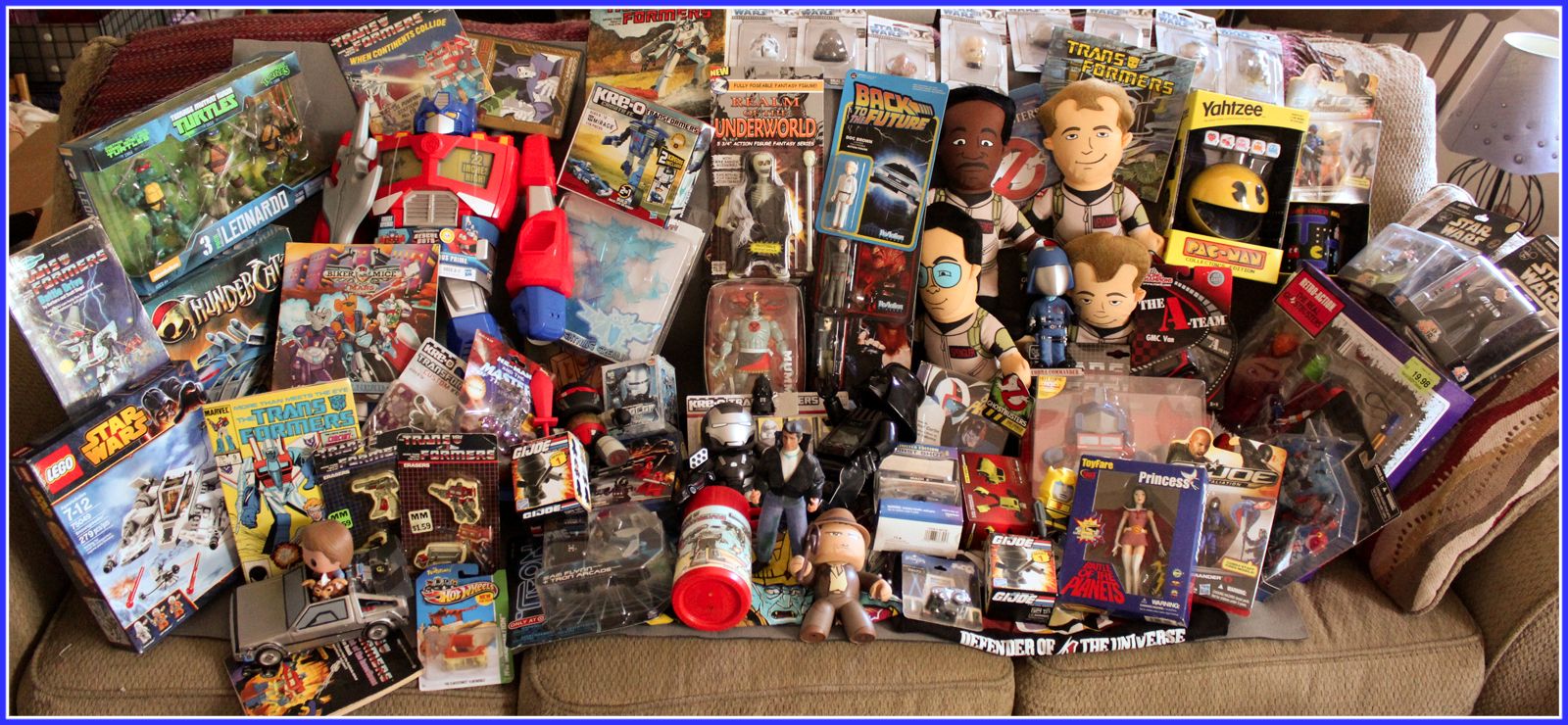 Get ready to test your mental mettle! We've once again combed the far reaches of our attic to find prizes for the Retro Con 2015 trivia contest!! We've got a huge selection of retro and retro-related items to give away at the show: Star Wars, Back to the Future, Ghostbusters, Transformers, GI Joe, TMNT, and a whole lot more!


Hosted once again by our good friend Mike Breaux of The Breaux Show, the contest will be held in the panel area at the convention on SUNDAY afternoon (exact time to be determined)! 
No sign-up is required and there are no age restrictions, anyone can watch or play! We will reveal each item one at a time, then ask a trivia question related to it. This could also include audio or video clues. Directly afterwards we will randomly select a person in the audience that has their hand raised to answer. If they get it right, they win the prize on the spot. If not, we ask a different audience member until the prize is claimed!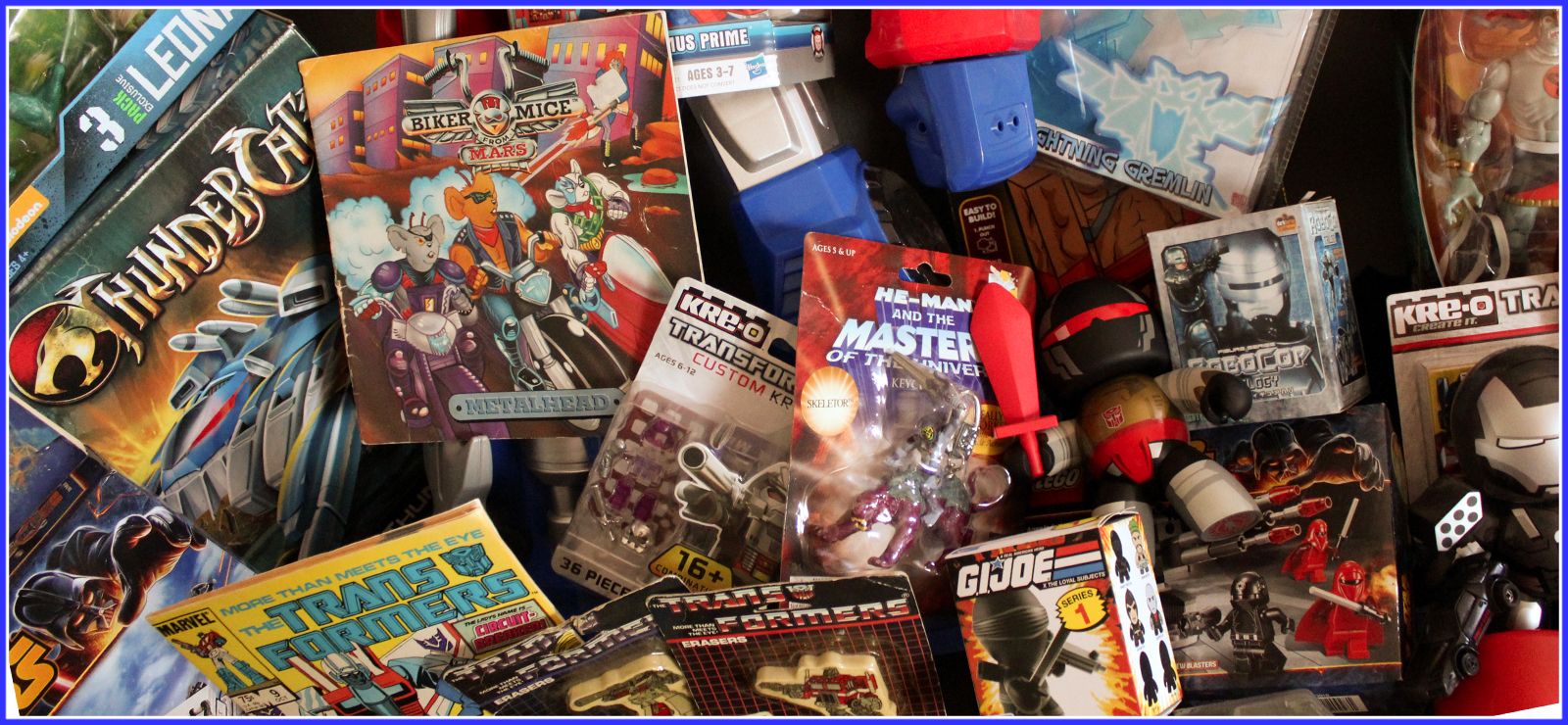 The contest is completely free to all Sunday and weekend pass Retro Con attendees! So stop by and test your knowledge of all things geeky!!
We are pleased to announce the return of two Retro Con alumni for this year's show: Doug Walker, aka The Nostalgia Critic, and James Rolfe, aka The Angry Video Game Nerd!
Though at one time they shared a faux rivalry, they've always remained good friends and now often collaborate on videos together. One of the more recent being an extended review of the 2014 TMNT movie!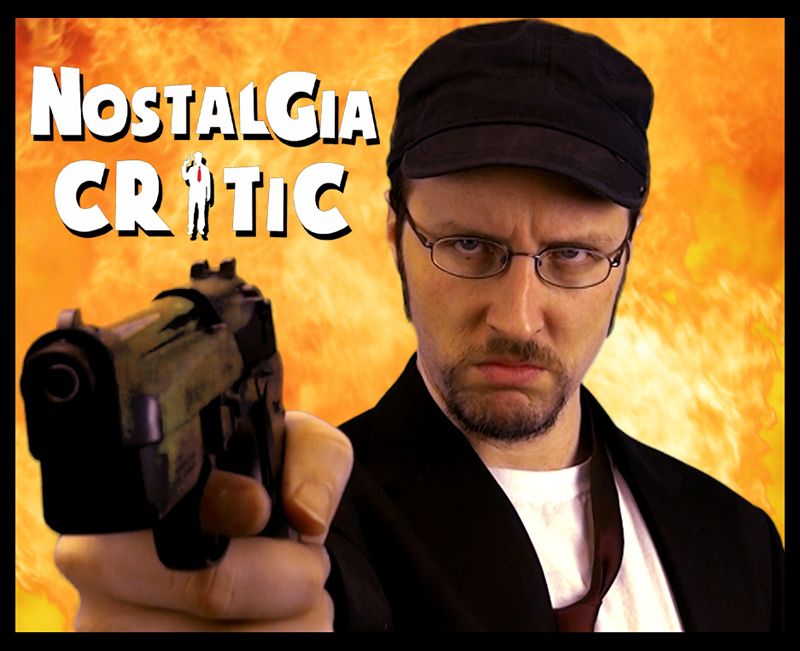 "I remember it so you don't have to!"
Doug Walker is best known for his video reviews as 'The Nostalgia Critic'. The show involves the title character looking back at movies and tv shows from the 80's and 90's, and pointing out why they may not be quite as classic as we remember them. He also reviews newer movies, along with oddities from the past such as this crazy animated Titanic movie featuring a rapping canine! With humorous insights and a frenetic style, the show has been a huge hit since 2008 and is still going strong. You can check out his team's work over at Channel Awesome!

"What were they thinking?!"
James is best known for his hilarious reviews of classic video games as the character 'The Angry Video Game Nerd', which mix together insightful commentary, over-the-top language, physical comedy, and various theatrical elements. In addition he's made videos reviewing retro movies, toys, board games, and more. Last year he also released a feature-length movie based around his AVGN character. Check out his team's huge body of work over at Cinemassacre.com!
Doug will be available at the show both Saturday and Sunday for autographs and pictures. He will also be hosting a Q&A panel on Sunday afternoon.
James will be at the show for autographs and pictures on **SUNDAY ONLY**, but will be part of the same Q&A panel as Doug. All times to be determined later.
We are excited to announce the addition of Michael McConnohie to our 2015 guest list!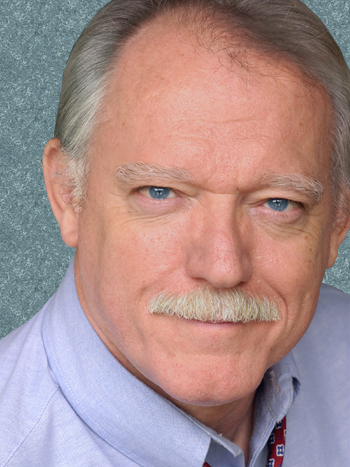 A veteran in the voice acting industry for over 30 years and still going strong, Michael has been part of hundreds of projects in the field, ranging from dubbing anime, to recording for western animation, to voicing characters in video games. In addition Michael also works as a voice director and writer.
Michael's most popular role in the retro realm is arguably that of Autobot Tracks on the original G1 Transformers cartoon!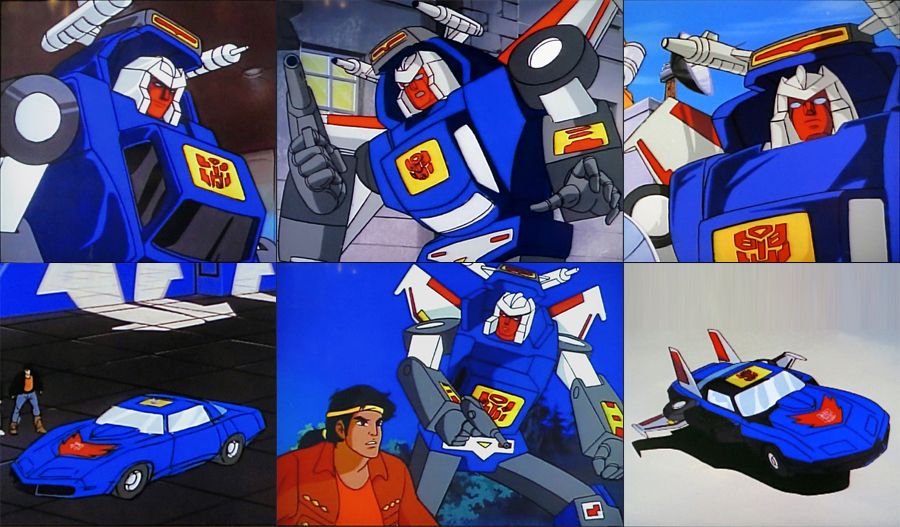 Introduced in season 2, Tracks with his sleek (flying!) car mode, warrior skills, and flamboyant and narcissistic personality, quickly made him a favorite among Transformer fans!

Michael was also voice of the quirky UFO character Cosmos on the show! Being one of the few Autobots able to fly into space, Cosmos would sometimes lament his lonely function on the team.

Michael also voiced Cross-Country on the original Marvel/Sunbow GI Joe cartoon. Usually a polite and jovial soldier, but don't steal his tape deck or else you'll see his angry side!!
Some of Michael's notable roles in dubbing include D and Left Hand in Vampire Hunter D, the lead role in Captain Harlock and the Queen From a Thousand Years, General Rolf Emerson in Robotech, Ryuken Ishida on Bleach, as well as providing the voice for Tatsu in the first two live-action TMNT movies!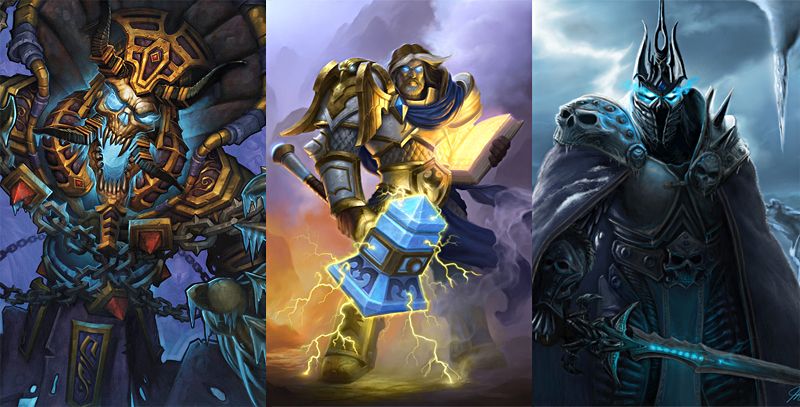 Michael has several popular roles in video games as well. In the World of Warcraft series, he can be heard as the voice of Kel'Thuzad, Uther the Lightbringer, and the Lich King!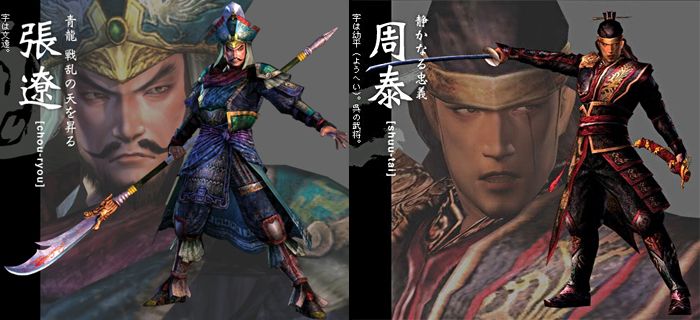 He also voiced Zhanh Liao and Zhou Tai in installments of the Dynasty Warriors series!

And he can most recently be heard in the brand new Mortal Kombat X, where he provides the voices for both Kano and Ermac!
Michael will be at the show all weekend and will be signing for attendees free of charge! We politely request that you limit your free items signed to two. We thank Mr. McConnohie for agreeing to come to the show this year!!