CONTACT US Email: Screamers@retroscreamers.com
Find Us On Facebook: www.facebook.com/RetroCons
Retro Con is happy to report the return of the 501st GARRISON CARIDA to our 2013 show, and this year they plan to hold a special event called Blast-A-Trooper! For a small donation to Toys For Tots, attendees can grab a NERF gun and blast their favorite armored characters in front of a Star Wars-themed backdrop. Fun for kids and grownups alike! Targets will vary, but could include stormtroopers, sandtroopers, biker scouts, clone troopers, snowtroopers, bounty hunters, and who knows, maybe even the big man himself! The group will be around for photo ops throughout the day as well. So come out to the show and strike a blow to the Empire!!
Photos of Garrison Carida from Retro Con 2012 and past Blast-A-Trooper events
Retro Con is proud to announce yet another guest, talented Dan Khanna known in the Transformers community for his amazing art!
"Open your mind to the possibility that they're not bad movies… just misunderstood."
Retro Con is pleased to add to our guest list the spellbinding Mr Lobo! Shrouded in mystique, this innovative horror host has presided over the nationally syndicated TV program CINEMA INSOMNIA for over 10 years. The show is parody of and homage to late night B-movie hosts of the 70′s and 80′s, with a touch of The Twilight Zone thrown in. A less-than-classic horror/sci-fi movie is featured each episode and Mr Lobo appears between segments to give his thoughts and ideas on it, and of course talk to his unresponsive houseplant Miss Mittens (and occasional other guests). Retro and fake commercials are also routinely shown, along with vintage movie trailers, convention footage, and anything else Mr. Lobo chooses to show you. It is a true multimedia experience! Full episodes can be watched on his website via Lobovision!
Our good friend Jack Doud borrowed our vintage Skeletor bubblebath container recently. The reason? To make a silicone mold out of it to create an awards trophy for Retro Con 2013!
The trophy is made out of solid resin and has been painted a beautiful shade of gold , with an engraved metal plate attached to the bottom. Dubbed the "Skelly Award", this will be an additional prize awarded to the 1st place winner of the Retro Con 2013 costume contest (along with a $70 cash prize)! Come out in costume and try your luck!!
Here's an additional look at the unpainted statue, next to the original Skeletor bubble bath container in was cast from…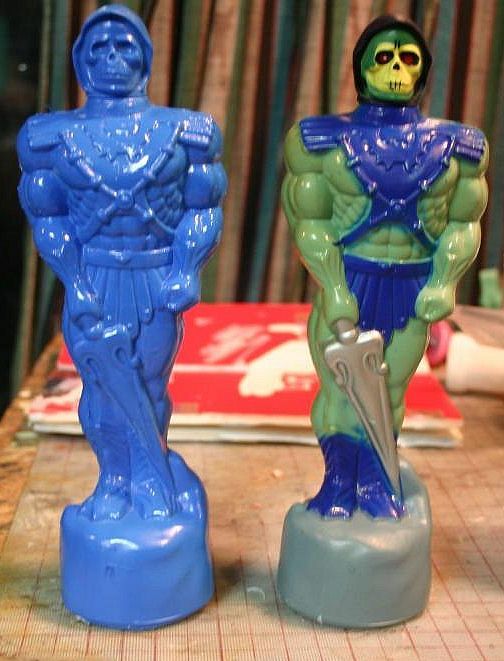 Check out Jack's various props, costumes, and other creative endeavors over at bloody-plastic.com!

Our good friend and photographer Kevin Abato of Grenex Media has graciously offered to set up a complimentary photo area at Retro Con 2013! Here Cosplayers can get professional-quality pictures taken of themselves in front of a stationary backdrop with full lighting equipment, making for a nice clean shot. Kevin will make these photos available for download in high resolution in the week following the show. He may also offer high-quality prints for sale for those interested.
The photo area will be open for a few hours during the show (times to be announced). In the meantime, check out examples of Kevin's awesome cosplay photography below!
Retro Con is proud to announce yet another talented artist. Rusty Gilligan has done sketch art for Walking Dead episodes such as: What Lies Ahead, Bloodletting, Save the Last One, Cherokee Rose, Chupacabra, Secrets, Pretty Much Dead Already, Nebraska and Triggerfinger!
Hama is best known as writer of the Marvel Comics licensed series G.I. Joe, based on the Hasbro line of military action figures!