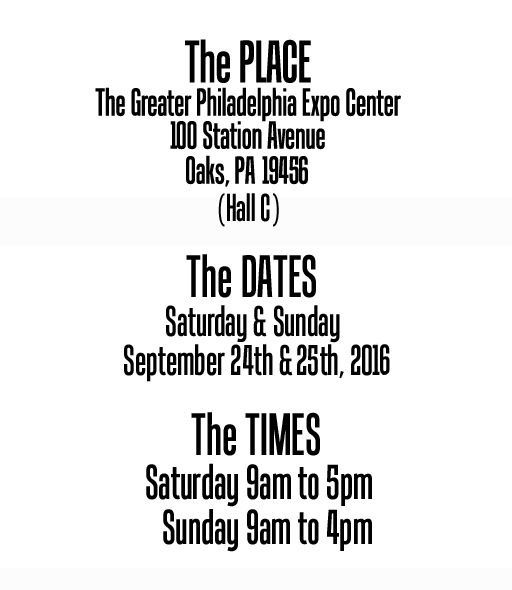 CONTACT US Email: screamers@retroscreamers.com
Find Us On Facebook: www.facebook.com/RetroCons
Our 2016 Facebook Event Page: https://www.facebook.com/events/872924266162204/
Saturday September 24th, 2016
8:30am: Preregistrant Check-in Begins

9:00am: Show Opens
9:30am: Panel- Starship Farragut w/ John Broughton & Eric Moran (Panel area)

10:30am: Cosplay Presidential Debate w/ Batman, She-Hulk & Iron Man (Panel Area)

11:15am: Panel- Living in 8 Bits (Panel Area)
12:00pm: Raffle Session 1

-Million Dollar Man Ted DiBiase figure
-Miniature Flux Capacitor
-Transformers Masterpiece Starscream

12:15pm: Trivia Contest! Hosted by The Breaux Show (Panel Area)

1:00pm: Costume Contest, 14 and Older! Hosted by Eric "The Smoke" Moran (Panel Area)

2:15pm: Truly Outrageous Karaoke Contest! Hosted by Nagi Oki (Panel Area)

2:30pm: PokeMon GO Giveaway! Kids 13 and under (Front-right of Hall)
3:45pm: Raffle Session #2
-ThunderCats Cats Lair Statue
-Transformers Generations Devastator box set
-MattyCollector Ghost Trap

4:00pm: Panel- Mr. Lobo/Cinema Insomnia (Panel Area)

5:00pm: Show Closes
7:00pm: TMNT II The Secret of the Ooze (1991) screening at Regal Cinemas (standard ticket prices apply)
______________________________________________________________

Sunday September 25th, 2016
9:00am: Show Opens
11:00am: Panel- Wrestler Ted DiBiase (Panel Area)

11:45pm: Raffle Session #1

-Pac-Man Ghost Light
-Yarn Game Boy
-MattyCollector Filmation Skeletor figure

12:00pm to 3pm: James Rolfe/AVGN signing (Cinemassacre Table)

12:00pm: Kids Costume Contest, 13 and under! (Panel Area)
12:45pm: Panel- 80's Voice Actors! Alan Oppenheimer, Cam Clarke, and Pat Fraley (Panel Area)

1:30pm: PokeMon GO Giveaway! Kids 13 and under (Front-right of Hall)
1:45pm: Panel- Andre Meadows/Black Nerd Comedy (Panel Area)

3:00pm: Raffle Session #2
-SEGA Genesis with Box
-Star Wars Black Series TIE Fighter
-LEGO Ghostbusters Firehouse Set

3:15pm: Panel- James Rolfe/Angry Video Game Nerd (Panel Area)

4:00pm: Show Closes
It's time to GO NINJA GO NINJA GO!!
In conjunction with Retro Con, the Regal Cinemas Oaks 24 next to the expo center has lined-up a 25th anniversary screening of Teenage Mutant Ninja Turtles II: The Secret of the Ooze!
The start time is 7pm that Saturday, which gives you plenty of time after the show ends for the day to relax a bit, grab a bite to eat, and then take in a retro classic! This screening is for anyone, not just Retro Con attendees, and standard ticket prices do apply.
This digital screening is sponsored by Cheeburger Cheeburger Oaks, PA!
This election year, check out the candidates you REALLY want! Batman, Iron Man and She-Hulk will be having a presidential debate live at Retro Con! And YOU can be part of it!
Join the fun in the panel area on Saturday, September 24th. Ask our super-candidates their thoughts on the economy, alien immigration or laser gun control… it's up to you! This panel will be featured in an episode of Captain Kyle's Cosplay Spotlight! Don't miss it!
We are pleased to announce youtube personality Andre Meadows will be attending Retro Con 2016!
Andre is the driving force behind Black Nerd Comedy, a popular channel on youtube where he posts frequent videos about geek entertainment, nerd news, rants & reviews, pop culture, conventions, and 80's-90's retro nostalgia!

An unabashed geek inside and out, Andre is also a devoted collector and has a particular fondness for TMNT, Power Rangers, Nintendo, Gremlins, and the Smurfs. In other words, he'll feel right at home at Retro Con!

Andre will be at the show all weekend to meet with fans, and will be hosting a Q&A panel on Sunday at Retro Con. He has also graciously offered to moderate our voice actor panel on Sunday, featuring Cam Clarke, Pat Fraley, and Alan Oppenheimer!
A huge thanks to Andre for agreeing to come to the show on such late notice, and a special thanks to Kristy Sproul of  Voice Chasers for her assistance in getting Andre to Retro Con!!
Due to professional commitments, comedian Michael Winslow has had to cancel his appearance at Retro Con 2016. We are very sorry for the inconvenience.
New Wave Comics & Collectibles has kindly agreed to host Magic Card tournaments all weekend at Retro Con!
New Wave Comics & Collectibles offers a fun & inclusive space for everyone to enjoy comic books & games, whether you're a n00b or Level V Geek!  Not sure where to start with comics?  Stop by for recommendations.  Know an awesome game you think they should be carrying?  Let them know!  New Wave Comics is an elitist-free zone — stop by & let your geek flag fly!
New Wave runs Friday Night Magic every Friday at 6:30. They also hold all pre-releases and game days for all new releases along with holding a casual 'game day' every Thursday at the shop.   During casual game day, people will play different formats of magic like; Commander, Standard, Modern, etc.  They always have tables open in the back for people to play any time!
New Wave will be hosting Magic games all weekend long at the show! Look for them in the back-left of the hall!!
We will be hosting  *TWO* costume contests at Retro Con 2016!
SATURDAY at 1:00pm- Junior & Adult Costumers 14 and over!

SUNDAY at 12:00pm- Kid Costumers 13 and under!


Hosted once again by our good friend Eric "The Smoke" Moran, both contests will be held in the panel area at the show. Individuals and small groups are eligible to participate. Preregistering for the contest is not necessary, just be around the panel area prior to the announced time if you would like to be included. There is no sign-up fee.

We do a combination of staff judging and crowd reaction to determine our three winners. While craftsmanship will be definitely be taken into account, we will mostly judge costumes on their theme and overall effect. While some costumers are well-versed in advanced sewing and molding techniques, others show their ingenuity through creative glueing, hand sewing, and working with found items. We recognize costuming/cosplay as a hobby for people of all skill sets and budgets!
Please no skits or anything else that might delay the contest. Doing a pose and/or saying something briefly in character is okay. Also please no heckling from the audience or from contestants. Anyone found disorderly will be asked to leave. We believe in a fun and ego-free atmosphere!
_ _ _
Costumers will have a chance at winning three cash prizes:
Junior & Adult Costumers 14 and over
FIRST place: $100.00
SECOND place: $75.00
THIRD place: $50.00
Kid Costumers 13 and under
FIRST place: $75
SECOND place: $50
THIRD place: $25
_ _ _
The Skelly Awards!
In addition to the cash prizes, winners of the costume contest will receive these specially painted Skelly awards: 1st place gold, 2nd place silver, and 3rd place bronze! The mini Skellies will go to the winners of the Kids costume contest.
_ _ _
And as a special added treat, the voice of Skeletor himself, Mr. Alan Oppenheimer, has kindly agreed to give away the Skelly awards at the end of the costume contest on Saturday!!
_ _ _
Some of the fantastic costumes from previous Retro Cons!