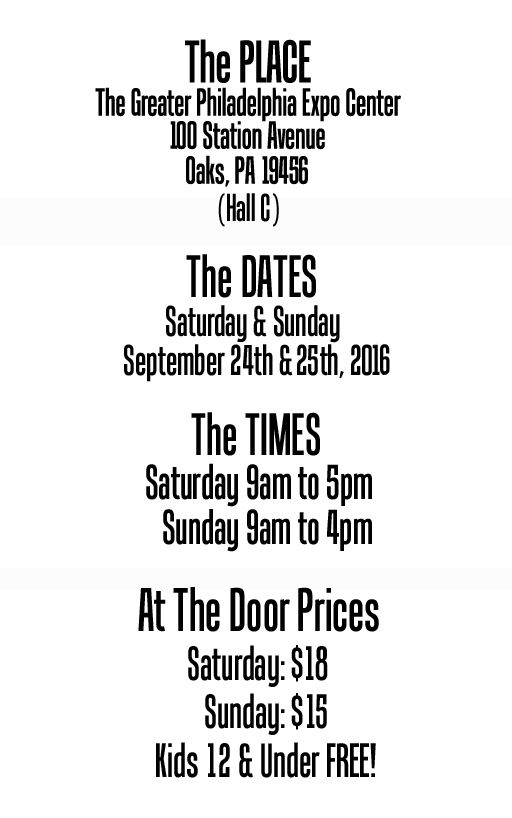 CONTACT US Email: screamers@retroscreamers.com
Find Us On Facebook: www.facebook.com/RetroCons
Our 2016 Facebook Event Page: https://www.facebook.com/events/872924266162204/
If you'd like to buy a weekend ticket for Retro Con 2016 and save money, time is running out! We'll stop Preregistration after September 12th. After that we can only accept cash at the door either day.
Pre-purchase your weekend tickets to Retro Con 2016 via Paypal here:
retrocons.com/purchase-retro-con-tickets/
See you at Retro Con!!
Saturday September 24th, 2016
8:30am: Preregistrant Check-in Begins

9:00am: Show Opens
9:30am: Panel- Starship Farragut w/ John Broughton & Eric Moran (Panel area)

10:30am: Cosplay Presidential Debate w/ Batman, She-Hulk & Iron Man (Panel Area)

11:15am: Panel- Living in 8 Bits (Panel Area)
12:00pm: Raffle Session 1

-Million Dollar Man Ted DiBiase figure
-Miniature Flux Capacitor
-Transformers Masterpiece Starscream

12:15pm: Trivia Contest! Hosted by The Breaux Show (Panel Area)

1:00pm: Costume Contest, 14 and Older! Hosted by Eric "The Smoke" Moran (Panel Area)

2:15pm: Truly Outrageous Karaoke Contest! Hosted by Nagi Oki (Panel Area)

2:30pm: PokeMon GO Giveaway! Kids 13 and under (Front-right of Hall)
3:45pm: Raffle Session #2
-ThunderCats Cats Lair Statue
-Transformers Generations Devastator box set
-MattyCollector Ghost Trap

4:00pm: Panel- Mr. Lobo/Cinema Insomnia (Panel Area)

5:00pm: Show Closes
7:00pm: TMNT II The Secret of the Ooze (1991) screening at Regal Cinemas (standard ticket prices apply)
______________________________________________________________

Sunday September 25th, 2016
9:00am: Show Opens
11:00am: Panel- Wrestler Ted DiBiase (Panel Area)

11:45pm: Raffle Session #1

-Pac-Man Ghost Light
-Yarn Game Boy
-MattyCollector Filmation Skeletor figure

12:00pm to 3pm: James Rolfe/AVGN signing (Cinemassacre Table)

12:00pm: Kids Costume Contest, 13 and under! (Panel Area)
12:45pm: Panel- 80's Voice Actors! Alan Oppenheimer, Cam Clarke, and Pat Fraley (Panel Area)

1:30pm: PokeMon GO Giveaway! Kids 13 and under (Front-right of Hall)
1:45pm: Panel- Andre Meadows/Black Nerd Comedy (Panel Area)

3:00pm: Raffle Session #2
-SEGA Genesis with Box
-Star Wars Black Series TIE Fighter
-LEGO Ghostbusters Firehouse Set

3:15pm: Panel- James Rolfe/Angry Video Game Nerd (Panel Area)

4:00pm: Show Closes
It's time to GO NINJA GO NINJA GO!!
In conjunction with Retro Con, the Regal Cinemas Oaks 24 next to the expo center has lined-up a 25th anniversary screening of Teenage Mutant Ninja Turtles II: The Secret of the Ooze!
The start time is 7pm that Saturday, which gives you plenty of time after the show ends for the day to relax a bit, grab a bite to eat, and then take in a retro classic! This screening is for anyone, not just Retro Con attendees, and standard ticket prices do apply.
This digital screening is sponsored by Cheeburger Cheeburger Oaks, PA!
This election year, check out the candidates you REALLY want! Batman, Iron Man and She-Hulk will be having a presidential debate live at Retro Con! And YOU can be part of it!
Join the fun in the panel area on Saturday, September 24th. Ask our super-candidates their thoughts on the economy, alien immigration or laser gun control… it's up to you! This panel will be featured in an episode of Captain Kyle's Cosplay Spotlight! Don't miss it!
We are pleased to announce youtube personality Andre Meadows will be attending Retro Con 2016!
Andre is the driving force behind Black Nerd Comedy, a popular channel on youtube where he posts frequent videos about geek entertainment, nerd news, rants & reviews, pop culture, conventions, and 80's-90's retro nostalgia!

An unabashed geek inside and out, Andre is also a devoted collector and has a particular fondness for TMNT, Power Rangers, Nintendo, Gremlins, and the Smurfs. In other words, he'll feel right at home at Retro Con!

Andre will be at the show all weekend to meet with fans, and will be hosting a Q&A panel on Sunday at Retro Con. He has also graciously offered to moderate our voice actor panel on Sunday, featuring Cam Clarke, Pat Fraley, and Alan Oppenheimer!
A huge thanks to Andre for agreeing to come to the show on such late notice, and a special thanks to Kristy Sproul of  Voice Chasers for her assistance in getting Andre to Retro Con!!
Due to professional commitments, comedian Michael Winslow has had to cancel his appearance at Retro Con 2016. We are very sorry for the inconvenience.
New Wave Comics & Collectibles has kindly agreed to host Magic Card tournaments all weekend at Retro Con!
New Wave Comics & Collectibles offers a fun & inclusive space for everyone to enjoy comic books & games, whether you're a n00b or Level V Geek!  Not sure where to start with comics?  Stop by for recommendations.  Know an awesome game you think they should be carrying?  Let them know!  New Wave Comics is an elitist-free zone — stop by & let your geek flag fly!
New Wave runs Friday Night Magic every Friday at 6:30. They also hold all pre-releases and game days for all new releases along with holding a casual 'game day' every Thursday at the shop.   During casual game day, people will play different formats of magic like; Commander, Standard, Modern, etc.  They always have tables open in the back for people to play any time!
New Wave will be hosting Magic games all weekend long at the show! Look for them in the back-left of the hall!!