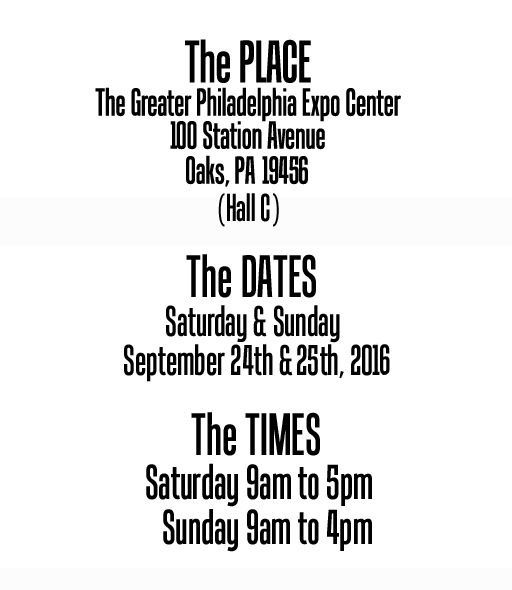 CONTACT US Email: screamers@retroscreamers.com
Find Us On Facebook: www.facebook.com/RetroCons
Our 2016 Facebook Event Page: https://www.facebook.com/events/872924266162204/
Thanks to our good friends Nick Govosdian and Adam Marish, we will have a large cache of the recently revived Hi-C Ecto Cooler to give away to attendees at Retro Con!!

They are 6 ounce juice boxes, just like back in the day! We can't promise everyone will get one, but we'll do our best to cover as many as we can!!
Video games are a large part of retro culture, so Retro Con will once again include a gaming section on the show floor!

This year The Game is Afoot Arcade will be bringing arcade games to the show!
They will be hosting a variety of classic coin-ops including such titles as Crystal Castles, After Burner, Robotron 2084, and Ms. Pac-Man/Galaga!
In addition they will be setting up their 'Multicade' machines, which feature over 5000 emulated titles to choose from! With games from the 1970's through the 1990's, there's something for everybody!!

In addition our friend Jim Cannon is planning to bring along his 1988 RoboCop coin-op machine, and our friend Derek Williams has graciously offered to bring his Dragon's Lair machine for attendees to enjoy!

And the best part is all machines will be set on FREE PLAY!! So take a break from shopping for awhile to stop by our arcade corner for some retro gaming fun!
And if home gaming is more your thing, Extra Life will be at the show and will have a variety of consoles set up for attendees to enjoy. Extra Life unites thousands of players around the world in a 24 hour gaming marathon to support Children's Miracle Network Hospitals. Since its inception in 2008, Extra Life has raised more than $14 million for local CMN hospitals!
A big thanks to The Game Is Afoot, Extra-Life.org, Jim Cannon, and Derek Williams for bringing their games to the show!
And a special shout-out and thanks to the website Retro-Daze, whose generous donation to the show made this feature possible!!
Categories:

Charities, Conventions, Retro Games
arcades, atari, conventions, galaga, games, mame, namco, pacman, retrogaming, retro_gaming, sega, VideoGames
We are thrilled to add The Man of 10,000 Sound Effects to our 2016 guest list: The one and only Michael Winslow!!
Growing up on an Air Force base near Spokane Washington, young Michael began imitating the sounds of planes, jets, trucks, and other equipment he heard all around him. This led to a lifelong career as a human sound board! Aside from acting, Michael is also well known for his original stand-up comedy that he performs all over the world!

Michael's big break came when he was cast as Larvelle Jones in the 1984 hit comedy Police Academy! He would go on to reprise the character in all the follow-up sequels, the live-action TV show, and even in a sketch for Robot Chicken!
A favorite in the series, Sgt. Jones was able to duplicate the sound of footsteps, flat tires, gunfire, machinery, cars, animals, beat boxes, and even a badly-dubbed martial arts movie! He would sometimes make sounds just for amusement, but at other times would use them to diffuse bad situations in the line of duty.
Michael also had a highly memorable cameo in the 1987 classic parody Spaceballs! He played the confused technician that discovered the radar had been jammed (raspberry). The sound effects in the entire scene were supplied by Winslow himself, which Mel Brooks jokingly says saved the film production thousands of dollars. Let's hear it for the Bleeps, the Sweeps, and the Creeps!
Another retro classic Michael was a part of was the 1984 hit movie Gremlins! He provided vocal effects for several of the mischievous creatures, including lines for the leader gremlin Stripe (along with veteran voice actor Frank Welker).
Michael Winslow will be on hand all weekend for autograph and photo ops. We'll post up a price list as the show draws closer. He'll also be participating in a Q&A session.

Please check out his official websites below:
Main: http://www.therealmichaelwinslow.com/
Facebook: https://www.facebook.com/MichaelWinslowOfficial/
Twitter: https://twitter.com/Noizey_Man
A special thanks to Emergence Talent and Super Megafest for their immense help in getting Mr. Winslow to Retro Con!!
A special added bonus for Preregistrants this year are these full color glossy Retro Con stickers! They measure 4″ by 3.5″ and look great on a door, a window, a laptop, or anywhere else you want to show your love of retro!!

We have a limited supply, but we'll hopefully have enough to cover all Preregistrants. We'll be pre-selling weekend tickets to the show until September, but don't delay and buy yours today!! You can purchase your tickets to the show HERE!
A big thanks to our staffer Nick Govosdian for buying these for the show!!
Our good friend Nagi has once again offered to host our karaoke contest at Retro Con 2016!

To be held on Saturday at the show at 2:00pm, sign-ups will begin at approximately 11:15am in the lobby of Hall C. We will make an announcement over the PA system when we are ready to accept entrants. Depending how strong interest is, we may have to institute a lottery-type system to pick our 15 contestants. There are no sign-up fees or age restrictions.

We will have a wide variety of 80's classics to choose from. Most will have on-screen lyrics to follow along with, but we will also be supplementing these with a few geek-related favorites that will have a *lyrics sheet only*. Consider these "extra credit" choices!

The contest rules are as follows:
#1. No staff or volunteers may enter.
#2. Singing in costume is allowed, but will not affect the judges' scoring.
#3. No skits are allowed. Dancing in place however is just fine (and encouraged).
#4. Solo artists only, please. No duets/trios/etc.
#5. Songs will be picked on a first-come, first-served basis. Songs will not be held for specific contestants. Also, outside music will not be allowed.
#6. No instruments will be allowed.
#7. All contestants must arrive at the panel/event room *15 minutes* prior to showtime for check-in and singing order assignment. If you are not present at this time, you may have to forfeit your place.
#8. Please no heckling from the audience or other contestants. Anyone found to be disorderly will be asked to leave the panel area.
#9. You MUST rock.
The 1st Place winner of the contest will receive a Master Replicas Force FX Lightsaber! It is full-scale and features a detailed metal hilt, light-up blade, and power up/down, humming, and clashing sound effects. Also included is the display stand and original box (not shown).

This particular lightsaber is based on the one used by Anakin Skywalker, later passed on to Luke Skywalker, and many years later wielded by both Finn and Rey in Star Wars Episode VII: The Force Awakens! It currently sells for more than $200 on-line!!
The 2nd Place winner of the contest will receive an official Lego Doctor Who TARDIS building set! The set is sealed and retails for $60!
The 3rd Place winner will receive a prize pack including a Super Mario plush, a miniature scale Hoverboard, and assorted pop vinyl novelties!
So consider signing up and channeling your inner 80's rocker or one-hit wonder! And if you don't consider yourself a singer, stop by and cheer on from the audience!!

In a rare convention appearance, we are thrilled to announce that Pat Fraley will be coming to Retro Con 2016!
A voice actor and voice-over teacher for more than 35 years, Pat is best known to retro fans for giving voice and personality to the quirky warlord Krang in the original Teenage Mutant Ninja Turtles tv series! Pat played the renegade from Dimension X in more than 125 episodes between 1987 to 1996, and he voiced the character more recently in an episode of Nickelodeon's modern TMNT cartoon entitled "Trans-Dimensional Turtles" where the current Turtle team gets transported to another dimension and meets the 80's iterations of themselves!
Ultimately banished from Dimension X for his treachery, Krang reluctantly teamed up with the Shredder and his foot soldier army to renew his penchant for conquest on planet Earth. Together they would attempt to take over the world, and in the process restore power to Krang's mobile command base the Technodrome for an eventual return to Dimension X. Unfortunately for them, their plans were foiled time and again by the Turtles and friends. Krang was easily one of the most amusing characters on the show and is a fan-favorite with his warbling voice, bizarre exosuit, and excitable personality.
Pat also voiced several other prominent characters on TMNT, including mad scientist Baxter Stockman, the Turtles' vigilante ally Casey Jones, the palm-tree obsessed Slash, and Channel 6's hard-nosed news editor Burne Thompson!
Aside from TMNT, Pat also voiced notable characters on Marvel/Sunbow's popular GI Joe cartoon series: Ace, Wild Weasel, and Airtight!
And other prominent roles you've heard Pat in include BraveStarr, Denver the Last Dinosaur, Max Ray in Centurions, and Jake Kong Jr. on Filmation's Ghostbusters!
Pat will be at the show all weekend for autograph and photo ops. Prices will be determined and listed as we get closer to show time. So come out to Retro Con this September to meet the voice of some of the greatest characters from your youth!!
A big thanks to CelebWorx for their immense help in getting Mr. Fraley to the show!